The Campus University
Paderborn University is oriented towards the guiding idea of the "University of the Information Society". The strong computer science and its fields of application as well as the interdisciplinary penetration of many disciplines by information technology aspects form an excellent basis for this orientation; however, the university wants to achieve more: It wants to advance the scientific-technical development of the information society, accompany it critically, at the same time open the view for the enduring values of our culture, but also use the opportunities offered by the information or knowledge society.
The teaching and research profile covers a broad spectrum of subjects in the humanities, economics, natural sciences, and engineering in the five faculties. In several areas, the university offers tiered degrees, in which Bachelor's and Master's degrees are awarded. With about 20,000 students, the campus university offers a manageable setting and good study conditions.
Brief Portrait of the Faculty of Business and Economics
The Faculty of Economics at Paderborn University is a modern dynamic learning and research institution with about 4,000 students, 41 professors, and about 170 other academic staff in teaching and research. Our goal is to communicate current findings from research in teaching and to actively develop the subject through research. Both traditional and modern economics is widely represented in the Faculty within the framework of Business Administration, International Business Studies, Business Informatics, Business Education, and Economics. In Business Law, Statistics, and Business English other important specializations are offered. In particular, our focus is on the economics of the knowledge and information society. One sign of this is that the departments of Business Information Systems and Business Education have a breadth that is unusual in Germany. Our research and teaching are internationally oriented and prepare graduates for today's global economy. We offer our students a variety of established exchange programs at foreign universities. Each year, we welcome several first-year students who come to us from all parts of the world, and we regularly invite visiting professors from abroad.
Brief portrait of the Department of Information Systems
Digitalization is transforming all areas of our society. In the Department of Information Systems, we research socio-technical information systems in the digital transformation – from digitally networked people to digital organizations and digital markets.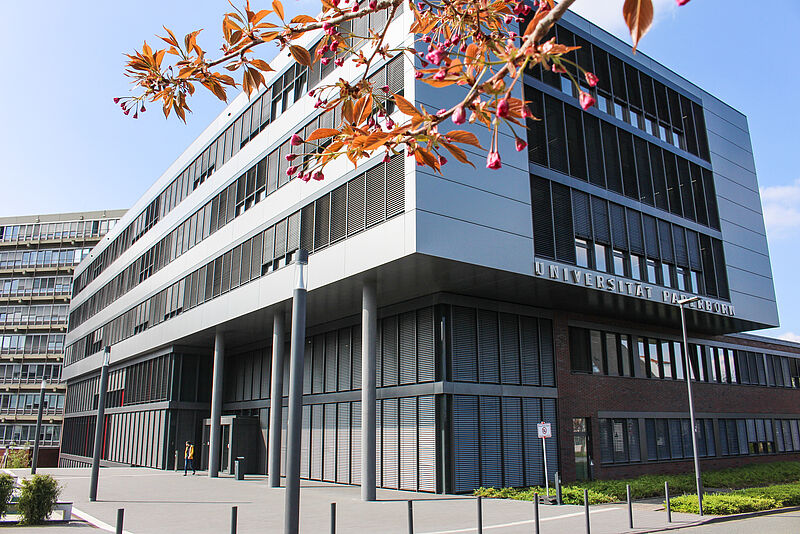 © Foto: Reinhardt Hardtke
As one of the largest business informatics institutes in Germany, we research how new information technologies can contribute to economic and social progress. We see ourselves as thought leaders of the digital society and conduct research to shape our digital future responsibly and sustainably. In addition to excellent projects in basic research (e.g. SFB 901 On-the-fly Computing), we collaborate in application-oriented research projects with companies and public institutions (e.g. SICP, its OWL). In EU projects and international networks (e.g. ERCIS), we conduct research together with leading individuals and institutions worldwide. A large number of publications and awards in internationally renowned journals and conferences attest to the excellence of our research.